Changelog¶
For planned features see roadmap.
Feb 25 2021¶
Added support for OpenTelemetry protocol.
Feb 10 2021¶
Improved span attributes view and added percentiles for every span.
Feb 01 2021¶
Added a view to explore services and a system for each service.
Jan 20 2021¶
Added ability to set a budget. See Sampling and rate limiting for details.
Jan 11 2021¶
New users can be invited via email to join an organization at Uptrace.
Jan 5 2021¶
Added Slack integration. Now you can receive notifications about errors and anomalies via Slack.
December 27 2020¶
Added a weekly email with a summary of changes happened over the last week.
December 15 2020¶
Added a view to compare performance between different periods and filters.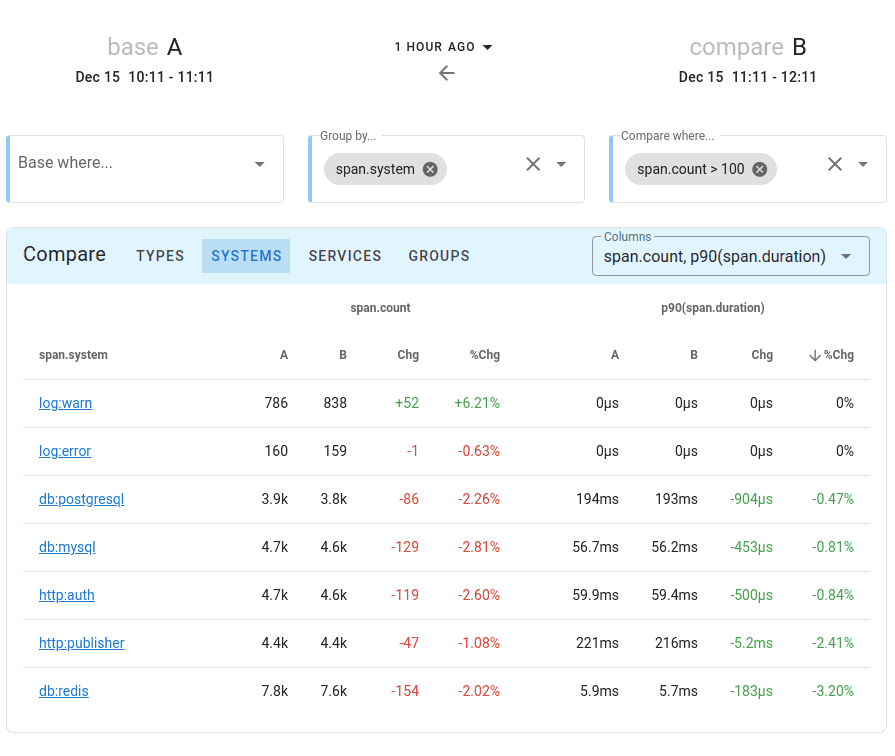 December 4 2020¶
Added information about country and city based on the IP address. Currently following attributes are processed: http.client_ip, net.peer.ip, and net.host.ip.
November 25 2020¶
Added Semantic attributes page where you can search over OpenTelemetry semantic attribute names.
November 23 2020¶
Added Frequently Asked Questions.
November 17 2020¶
Improved Explore attrs to work for systems, not just groups.
November 10 2020¶
Added SQL formatting AKA pretty printing.

October 25 2020¶
Changed Uptrace to send notifications in batches when there are many of them.
October 10 2020¶
Added uptrace-run command line utility that monitors command execution.